Cairns Glass Bottom Boat Tours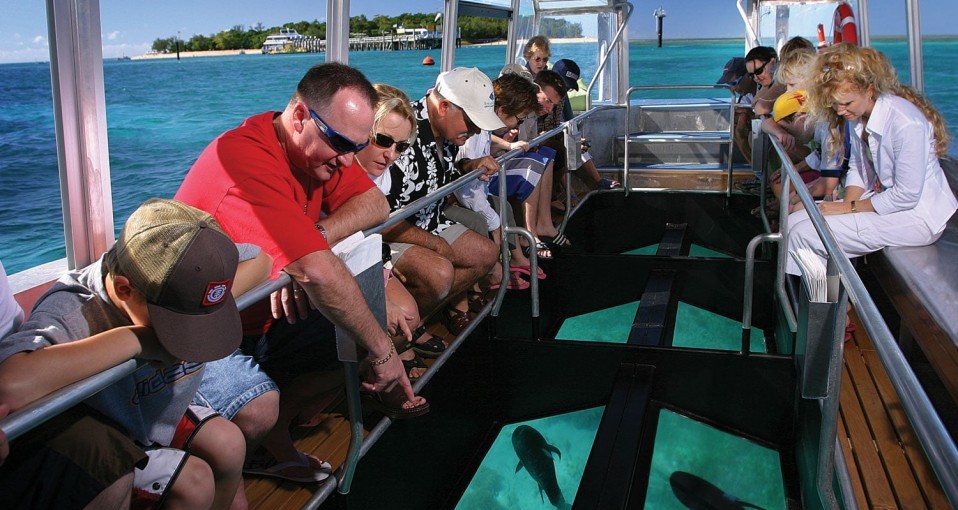 Glass bottom boat tours are a great way to see the reef from Cairns without having to get in the water. Cairns glass bottom boat tours are available on all the Cairns reef tours listed below and operate at Green Island, Fitzroy Island and the outer barrier reef.


---
Can't swim? Don't want to get in the water? You can still see the Great Barrier Reef from Cairns in a glass bottom boat.
Just because you don't swim, snorkel or dive doesn't mean you should miss out on the wonders of the Great Barrier Reef. Several Cairns tour operators offer the opportunity to ride in a glass bottom boat, and some even feature semi submersible submarines that allow you to view the ocean from a completely submerged vantage point without getting your feet wet. Glass bottom boat tour operators such as Big Cat offer half day and full day tours to Green Island and enable you to combine ocean exploration with other fun land and water based activities.

If you are a bit more adventurous then those who have never tried snorkelling before can benefit from the many beginners' snorkelling classes held by most tour companies on their boats. Under the tutelage of patient and experienced guides and with the use of high quality snorkelling equipment, even the most nervous beginner soon takes to the water like a fish.

Many of the reef boats that head to the outer Great Barrier Reef from Cairns and Port Douglas include a glass bottom boat experience, however we have chosen only to list the Green Island and Fitzroy island tours below as they are most suitable for those travellers just wanting a glass bottom boat experience without having to travel all the way out to the outer reef. If you are really short on time or get sea sick easily then select Green Island half day option as its just a short 45 minute ride across from the Cairns marina on Reef Rocket.
How long is a glass bottom boat ride tour in Cairns?
The glass bottom boat tours last 30 minutes in total. Many reef boat companies offer glass bottom boat tours as part of their full day reef packages. However, if you are looking to maximise your time and don't want to go all the way out to the outer Great Barrier Reef then the best glass bottom boat rides in Cairns are on Green Island and Fitzroy island. Big Cat offers half day Green Island tours, if you're short on time or have morning/evening plans.
Are children able to go on the glass bottom boat tours to the Great Barrier Reef from Cairns?
Absolutely glass bottom boats are a perfect pick for little ones and there is also some commentary so they can learn about the different marine life on board. Green Island offer a half day tour, which is a great option for younger children if you don't want to commit to a full day.

Do glass bottom boats have wheelchair or pram access if going from Cairns?
Sadly the glass bottom boats aren't wheelchair or pram friendly and you do need to have some mobility as you have to step from one boat to the other to board the glass bottom boat. Our operators are certainly able to provide some assistance though, they just can't physically lift anyone. With regards to prams on the island, Green Island is pram friendly and there are boardwalks and pathways throughout the island that are suitable too.

What's the difference between a glass bottom boat tour and a semi submarine tour from Cairns?
With the Semi- Submarine tour you are submerged underwater for about 30 mins so you can see marine life swimming right past your window as opposed to under your feet on a glass bottom boat tour. This option is more similar to a diver's perspective of the reef.

Where do glass bottom boat tours depart from in Cairns?
Most of the glass bottom boat tours depart from either the Reef Fleet terminal or Cairns Marlin Marina and some offer transfer options for an additional charge from you hotel.

Do you offer glass bottom boat tours from Cairns to the outer Great Barrier Reef?
Yes, there are glass bottom boat tours in outer reef locations, if you would like a full day tour. Reef Magic offers a great glass bottom boat and semi sub option in the Great Barrier Reef and is particularly good for families, providing the security of an activity platform.

rating
94% of new customers that used Everything Cairns to provide advice and securely book their Cairns activities have let us know they've had a good or excellent experience with us. Thank you.