Reef Boat Day Trip - Reef Magic
3% off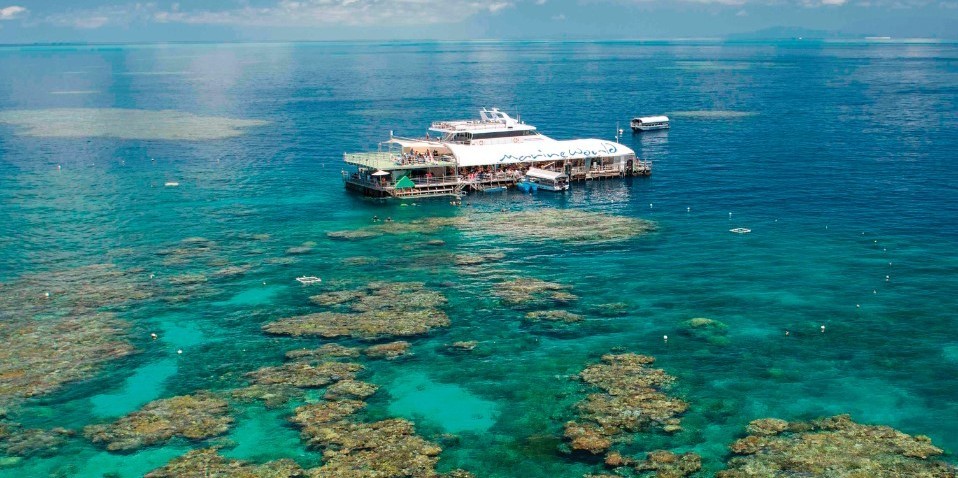 Day Tour to the Outer Reef Marine World Platform
Highlights
Great for families & people who prefer the security & space of the activity platform
5 hours on the outer reef activity platform
Includes lunch, snorkel equipment, semi submersible & glass bottom boat tour
Scuba diving & snorkelling
Maximum 200 passengers with 20 crew
Description
If you visit the Great Barrier Reef just once in your life, it is essential that you have the best possible experience. Locations on the outer reef like Marine World are a must-visit as they are renowned for having the most pristine corals offering the greatest variety of colour and best quality, as well as a diverse range of marine life.
Your departure from Cairns will be followed soon after by your arrival at the Outer Great Barrier Reef. Reef Magic Cruises ensure that all guests waste as little time as possible travelling and get to spend an unparalleled five whole hours at the capacious Marine World platform.
Only passengers with Reef Magic Cruises get to access Marine World, a private location on the outer reef that's unmatched in terms of quality. Your journey to Marine World will be kept under 90 minutes, enabling you to spend a longer time actually exploring the reef. What's special about Reef Magic Cruises is that the number of passengers allowed on board is kept strictly under the maximum number the vessel can accommodate, ensuring that each passenger receives ample space, maximum comfort and unmatched service.
As a guest of Reef Magic Cruises you will receive exclusive access to the Marine World platform, which can be enjoyed in any weather and is suited to all types of activity. Whether you'd like to snorkel in the tranquil coral lagoon, scuba dive (open even to first timers) or be accompanied by a Marine Biologist on a fascinating Guided Snorkel Safari, you can make it happen at Marine World.
If you're not the best swimmer around, never fear. You can explore the reef without getting your feet wet by way of the Semi-Submersible, as well as a Glass Bottom Boat that enables you to view coral up close and an Underwater Observatory. A Helmet Dive enables you to experience the reef in an unprecedented manner, all while keeping your hair completely dry. A Reef Scenic Helicopter Flight enables you to view the reef from a completely different angle as you soar overhead.
Optional Extras
Other than what's included in your cruise fare, you may choose from a variety of thrilling optional activities at an additional cost. It is best to pre-book your optional activities to guarantee availability.
Reef Magic Cruises enable visitors to enjoy a huge range of top notch dive experiences catering to all levels of experience, from those who have never tried scuba diving before to accomplished certified divers. All equipment will be provided, including wetsuit and dive computer.
Certified Diving
Famed for offering some of the most outstanding Great Barrier Reef certified diving experiences around, Reef Magic Cruises also enable visitors to use excellent Marine World as their starting point from which to explore the reef. A dedicated dive tender will enable you to participate in some choice drift, channel and wall dives which will have you enjoying swim throughs and exploring ledges, drop offs and little caves. These restricted locations are private and can only be accessed by Marine World guests, so you will experience something not many others have had the chance to. Sites are carefully selected in accordance with the weather of the day and also considering the experience level of the divers present.
With the opportunity to spend 5 hours on the reef, up to 3 totally separate dives can be enjoyed each day. All dives will be led by professional guides to ensure maximum safety and fun. You will be taken straight to the most outstanding areas, giving you ample time to soak in your stunning surroundings without having to waste precious minutes navigating.
Even if you lack a dive buddy, you will be put together with another person of similar skill or with the dive master himself. Bring along your log book so you can keep a record of your unforgettable experience on the Great Barrier Reef!
Introductory Diving
You needn't have ever tried diving to enjoy an introductory diving experience that provides all equipment, including a wetsuit, as well as a dive certificate that you can keep as a souvenir.
There is no better place than the Great Barrier Reef to dip your toes in the water on your maiden scuba diving experience. So long as you possess the ability to kick and a beating heart, you can probably dive successfully, so give it a try and we guarantee you'll never forget the experience!
Scuba diving is strictly regulated in Australia, making it as safe as can be. Only qualified instructors are involved, and all operational procedures are strictly followed. Reef Magic Cruises prioritises your safety above all, as evidenced by their perfect safety record.
En route to the reef, all your questions will be answered by the enthusiastic and experienced instructors, who will teach you all about the scuba equipment you'll be using and equip you with the basic knowledge you need to enjoy your scuba diving experience.
The Marine World platform offers beginning divers an extremely safe, controlled environment from which to enter the water. Descend the stairs into a protected "moon-pool" in which you will first practise your newly-acquired basic skills before proceeding to your dive.
All groups are deliberately kept small with no more than four divers under each instructor, less if the divers are not confident, so there is no need to worry about your safety.
Your maiden dive takes place in the coral lagoon, with shallow and sheltered waters filled with luxuriant coral growth and a diverse range of fish. This is also where you might meet Wally, the Giant Maori Wrasse. A professional dive photographer will be on hand to take pictures of your experience.
Your first dive will usually last roughly twenty to thirty minutes and enable you to reach a depth of up to 10 metres, with the bulk of the dive taking place around the four to five metre mark. On your second or third dive, you will be more confident in your skills, giving you more time to enjoy the dive. In calm waters, you might if you're good even be able to attempt the amazing Reef Magic wall!
Helmet Diving
Enjoy the excitement of scuba diving while keeping your hair completely dry. This is a great way for non-swimmers to enjoy the ocean.
Guided Snorkel Tours
Guided snorkel tours led by marine biologists are available for both beginner and advanced snorkellers. The 35 minute Guided Coral Garden Snorkel Tour is a great introduction to the reef, suitable for individuals, couples and families of all snorkelling abilities. The 50 minute Adventure Snorkel Safari gives you the option to explore further into the reef for those comfortable in the water.
Reef Scenic Helicopter Flights
Scenic flights departing from Marine World that last for 5, 10 and 30 minutes enable you to witness the magnificence of the Great Barrier Reef from above. Book a spot once you are at the reef.
Fly & Cruise Combos
This combo enables you to combine your full day reef experience with a breathtaking flight by helicopter that will have you soaring above the stunning Great Barrier Reef. Snorkelling, a ride in a glass bottom boat and semi submersible, a sumptuous buffet lunch and the right to use all facilities on the Reef Magic Marine World platform are included. Visit Reef Fly & Cruise Combo and check out the Reef Magic listing to book a combo.
Trip Includes
Five hours of snorkelling or diving at the outer reef
Morning & afternoon tea
Full hot & cold buffet lunch
Unlimited snorkelling with all equipment & instruction
Semi-submersible & glass bottom boat tour with interactive commentary
Underwater observatory with fish feeding & identification
Marine biologist presentation & much much more
Duration
Departures
9:00am (returns approx 5:00pm)
Check in at the Reef Magic vessel at 8:30am (crew will meet you on the wharf at Cairns Marlin Marina)
Operates Tuesday, Thursday and Sunday all year
Other Information
Please download the Check In QLD app prior to arrival for a smooth check in process
Maximum 150 passengers with 20 crew
All inclusive price for the basic day of snorkelling, lunch, semi sub & glass bottom boat tour
It is recommended to book any optional extras in advance to ensure availability
Please read the important dive information before booking your intro or certified dive
Toilets & baby change facilities
Child rates for 4 - 14yrs. Children under 4 years free of charge
Disposable underwater cameras are available for sale on board. Professional photographer on board
The minimum age for scuba diving & intro diving is 12 years
Environmental Management Fee (EMC) is included in the cost
Please leave at least 24 hours after your last dive before flying
Lockers available on board for $2
Prescription masks available to hire on board for a small hire fee
Normal Retail Prices
Cruise & Snorkel:

adult AUD$299.00
child (4-14yrs) AUD$169.00
family (2ad+2ch) AUD$767.00

Cruise & Intro Dive:

adult AUD$418.00
child (12-14yrs) AUD$288.00

Cruise & Certified Dive:

adult AUD$408.00
child (12-14yrs) AUD$278.00

Cruise & 35 min Guided Snorkel:

adult AUD$349.00
child (4-14yrs) AUD$219.00

Cruise & 50 min Guided Snorkel:

adult AUD$359.00
child (4-14yrs) AUD$209.00

Cruise & Snorkel + 10min Heli:

adult AUD$449.00
child (4-14yrs) AUD$349.00
All prices shown in AUD$.
Genuine Customer Reviews powered by
Service rating:
Really helpful team. We booked a trip then needed to change it as the timings didn't work. All done efficiently and we were refunded the difference.
All questions answered straight away.

Product rating:
Very well organised short trip. There wasn't a lot of time but we got a taster. If I had my time again I might have booked glass bottom boat instead of snorkeling but that is my issue rather than anything wrong with the tour.
Service rating:
The staff were absolutely fantastic, friendly and professional. The seas were rough and a lot of people were sick. The staff care was amazing.

Product rating:
Great value for money, well worth it
Service rating:
Poor service

Product rating:
Food quality was bad and limited
Service rating:
Last min communication about cancelled trip due to weather. But I managed to get another cruise with different operator on same day with same offer. I don't know why it was cancelled with reef magic.

Product rating:
Poor customer service and cancelled last min.
Service rating:
Perfect transaction. No problems with your communication
Product rating:
Service rating:
Did not have enough wet suits in my size. Had to wear one too small. Food was not good quality or flavor.

Product rating:
Too many people. Food was not good. Ran out of my size of wet suit.
Service rating:
Great crew to take us out!!! Only complaint was doing the beginner dive, we have dived before just not certified, would be great if they broke the groups out that way. Otherwise perfect day!
Product rating:
Service rating:
Very helpful and went above and beyond my expectations. Giving me advice on what types to do.

Product rating:
Nice small group of people at the reef site. Nit crowded at all. Good price also.
Service rating:
No problem booking the excursion (I booked online)

Product rating:
There were no problems booking the excursion however there were problems with the staff. They were friendly and helpful but not well informed. We were told to check the white board for activities yet nothing was written on the board. We paid extra for a guided snorkel trip, signed up & paid for it onboard before we arrived. Between my husband and I we asked no less than 6 different times where to go and never got an answer from the staff. A man at the bar told me the staff didn't know what was going on and then laughed, we didn't think that was funny. Also the safety talk was a joke, we couldn't see or hear it from our seats on the deck.
Service rating:
Booked all my Cairns adventures through Everything Travel Group due to value for money. Best decision ever. The tours were awesome. You have a customer for life.!!!

Product rating:
Best Day Ever.!! An experience I'll never forget. My photo with Wally the Giant Maori Wrass is one of my prize possessions. Great time, food and customer service
Latest Questions about Reef Boat Day Trip - Reef Magic
Where does reef cruises leave from
Comments
Do you have wet suits for rent if i secure the tour?
Comments
Unlike other tours from Cairns that I've seen, I'm assuming that this one does not have an island that you can spend part of the day at, is that right? I am not going to be snorkeling and neither are most of the others in our group of six so I was trying to determine if it was worth taking this or not. Some of them would like to see the outer barrier reef and snorkel so that's why I am asking
We will be in Cairns on June 13 & 14th. What is the water temperature at that time ? If it's below 80 degrees do you offer wet suits?
Comments
Hello,
Can a non-swimmer snorkel and also try introductory scuba dive?
Thanks
Comments
Where do we meet the boat in Cairns?
Comments
Hi there, is there a tour that leaves from port Douglas? Looking to book a tour for 12 ppl to give everyone the option of snorkelling/diving and glass bottom boat.

Looking for availability AUGUST 14 or 15.
1. are there any weight restrictions for the helicopter flight?

2. Is there shade available on the trip out/ back/ on the pontoon?
Comments
Hi, my girlfriend and I are flying into Cairns on 20/11/15 and are keen to do some diving on the GBR, we are both certified divers and were keen on doing 2-3 dives in a day as well as looking to do a helicopter flight over the GBR as described as part of your package, I was wondering the cost and availability on 20/11/15 or 21/11/15
Comments


rating
93% of new customers that used Everything Cairns to provide advice and securely book their Cairns activities have let us know they've had a good or excellent experience with us. Thank you.