Easy to book - Secure Online Payments - Instant email confirmation - Flexible to make changes
Cairns Snorkelling Tours - Super Special Snorkel Savings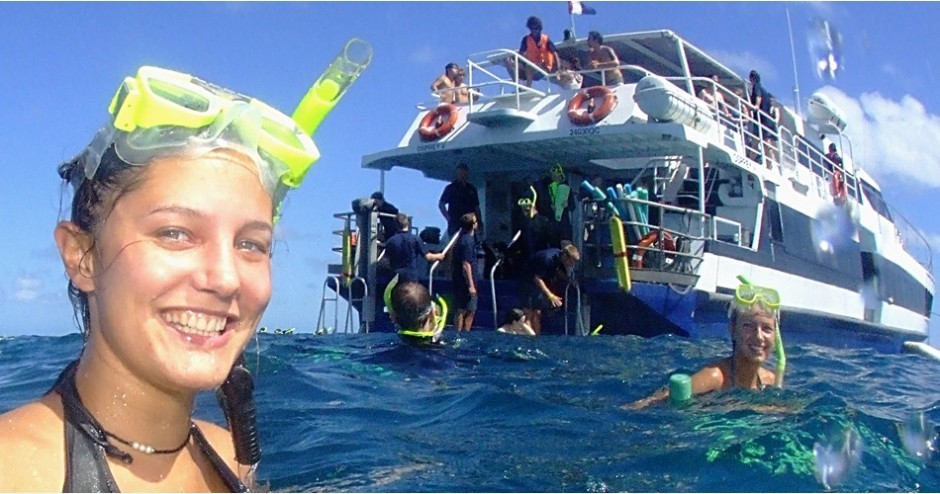 Cairns Snorkel Super Special - use promo code SNORKEL in the check out page to get 10% off any of the reef tours listed below.

Situated on the cusp of the Great Barrier Reef, there is no better gateway to the wonders of the deep than Cairns. A whole host of snorkelling trips depart from Cairns and Port Douglas each day, and you'll be spoilt for choice, whether you're an expert in the ocean or have never donned a snorkel mask in your life. If you're just getting your feet wet a reef boat day trip makes a great introduction, while seasoned snorkellers might prefer to take overnight boat trips. A variety of departure times are available throughout the day, with the majority of trips departing in the morning and concluding late in the afternoon. Special offers are available periodically, so don't forget to take a peek at our 'Current Specials' page.
---
If I have never snorkeled before can I still book?
You do not need to have snorkeled before to book a snorkel trip on a reef boat departing from Cairns. The staff and guides on board the reef boats will teach you all you need to know on the boat ride out to the outer reef so that once you arrive at the Great Barrier reef you'll be ready to snorkel and see all the amazing underwater wonders.

I can't swim, can I still book a snorkel trip?
Yes, if you are unable to swim but are really keen to have a go then as long as you are confident enough the instructors will be able to offer you flotation devices to help you stay buoyant and offer tips to help make your snorkelling trip to the Great Barrier reef everything you hope it will be. There are always life guards on duty to assist and keep an eye on you , but with the flotation device you'll just need to lie in the water and breath through the snorkel, its that simple! Please be sure to let the staff on board the boat know that you are unable to swim so they can take the necessary steps to ensure your trip to the reef is both a fun and safe one.



rating
95% of new customers that used Everything Cairns to provide advice and securely book their Cairns activities have let us know they've had a good or excellent experience with us. Thank you.