Easy to book - Secure Online Payments - Instant email confirmation - Flexible to make changes
Cairns Bungy Jumping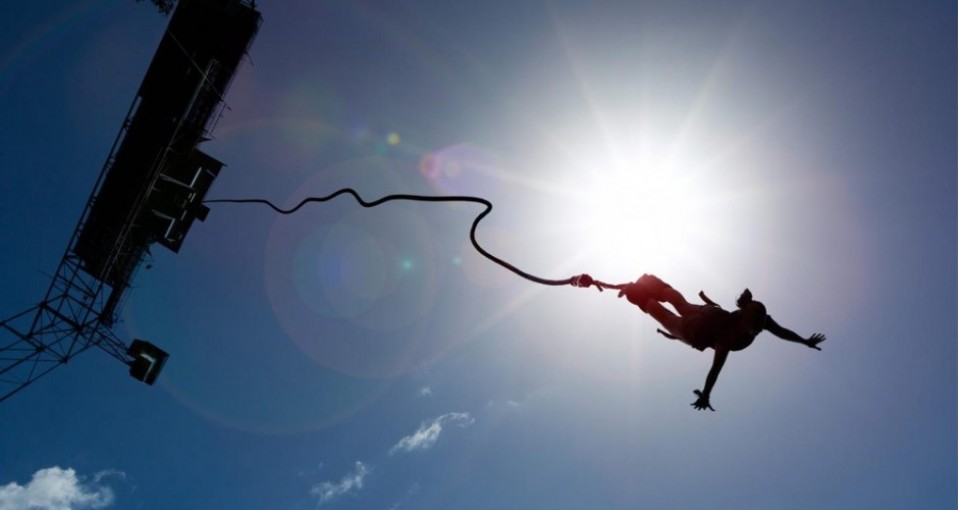 If you want to bungy jump in Australia then Cairns is the only place you can do it. Drive out to the Cairns bungy site in the rainforest about 20 minutes out of town or get the free hotel transfers with AJ Hackett bungy. If you aren't quite up for bungy jumping in Cairns then give the giant Minjin Swing a try!

***SPECIAL OFFER - GET 7% OFF***
Use promo code BUNGY to get 7% off all bungy jumping and other Cairns tours
---
There are a whopping eight different bungy jumps or combos available in beautiful Cairns! Challenge yourself in Cairns with the AJ Hackett Big Day Out Bungy and BmXtreme Plus, or maybe try the awesome foursome – skydive, reef, raft and bungy, all in one day! Then there's a Triple Combo, a Super Triple Combo, the Frantic Combo, or no bungy at all – but rather, the Minjin Jungle Swing!
Whatever you choose, you will be stretched to the limit of your comfort zone. Enjoy three different Cairns bungy jump styles – the traditional Swan Dive, the Running Roof Harness Jump or the Roof BmX Launch into the unknown. If bungy jumping in Cairns is not to your taste, then join one or two friends as you do the Minjin Swing at up to 120 km/h. The sites of the bungy towers and Minjin swing are surrounded by gorgeous, lush rainforest, and full equipment provision and dining facilities are incorporated. Enjoy the view and revel in the excitement!

rating
95% of new customers that used Everything Cairns to provide advice and securely book their Cairns activities have let us know they've had a good or excellent experience with us. Thank you.