Bungy - Skypark By AJ Hackett Bungy
Highly Recommended
17% off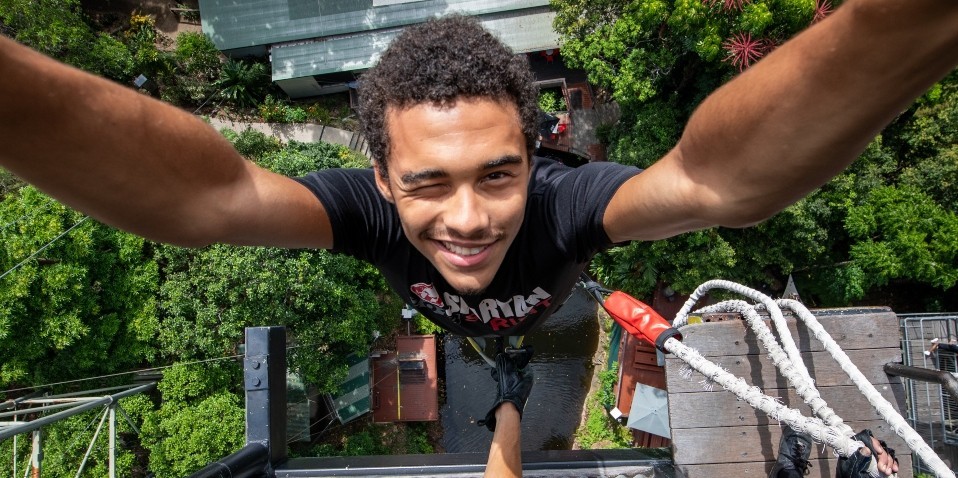 Australia's Only Bungy at Skypark By AJ Hackett
Highlights
Over 4 million safe bungy jumps worldwide
The original company that founded Bungy
A famous rite of passage for travellers for over 30 years
The worlds biggest jump menu (different ways to jump)
Description
Bungy jumping with Skypark by AJ Hackett is no ordinary affair. The jump site in Cairns has historical significance as the world's first tower built especially for bungy jumping. Choose from sixteen jump styles that are limited only by your imagination, something you won't find anywhere else on earth! Whether you'd like to take a swan dive off the platform as most people do or zoom off the platform on a BMX bicycle, the sky's the limit.
The tower, which measures 50 metres or 164 feet, lies North of Cairns, a mere 20 minute drive away, and is situated deep in the rainforest. You'll leap above a pond that can accommodate dips or momentary submersion, idyllic waterfalls and a cacophony of local wildlife that includes snakes, birds and goannas.
The location of the jump site was selected for the beauty of its surroundings, making it one of the most scenic and most memorable places in the world where bungy jumping is possible.
You'll get the chance to not only experience the heart-stopping thrill of bungy jumping yourself but also to watch others attempt both the Bungy Jump and the Giant Swing from four strategically placed viewing decks.
Chill out at the main building, which was constructed in 1999, and have a drink at the bar before or after your jump, where merchandise can be purchased. The main building was specially designed to go with the rainforest surroundings and enhance the incredible experience of bungy jumping. Live music is available on Sundays.
Whether you'd like to get your adrenaline pumping by bungy jumping or attempting a giant swing, see what the view is like from atop the tower or simply relax and watch others jump, Skypark by AJ Hackett will shake you up!
Trip Includes
50 m Bungy jump
Jump certificate
Free transfers available from Cairns CBD or Northern Beaches
Duration
Departures
9:00am or 11:00am Free Cairns City transfers available from All bout Cairns (58 Grafton St) - Corner of Grafton and Spence St Cairns CBD.
Self drive to Skypark by AJ Hackett, end of McGregor Road, Smithfield, 15kms north of Cairns central
Operates all year
Other Information
DVD's & Photos can be arranged on the day when you check in on site
Minimum age to Bungy is 10 years (under 18's require written parental consent). No minimum age to swing but must fit in harness safely, this will be assessed by the swing controller
For health and safety reasons, only certified camera equipment is used by the crew
Maximum combined weight for Bungy is 240kg
Minimum jump weight is 45kg (if between 35kg and 45kg you can participate in a tandem jump with a friend or one of our great crew!)
Licensed bar on site
It is possible to jump tandem at this site
To book the Giant Swing Separately click here
Normal Retail Prices
Bungy:

adult AUD$179.00
student (with valid ID) AUD$139.00
child (10-14yrs) AUD$99.00

Bungy & Swing Combo:

adult AUD$269.00
student (with valid ID) AUD$209.00
child (10-14yrs) AUD$209.00
All prices shown in AUD$.
Genuine Customer Reviews powered by
Service rating:
I think the pre-booked Bungy jump was great I was thrilled with the souvenir shop and look forward to going there again. Sally Honnibal

Product rating:
I've turned 40, and bungy
Service rating:
Very friendly and nice stuff and service

Product rating:
I liked friendly vibes and cool music!!!
Service rating:
Staff were just Great at arranging these from the UK regarding pickups and any other problems

Product rating:
This was great. I was too chicken but they offer so many jump opportunities such as running off the roof! It took a long time to get taken back to cairns however.
Service rating:
Very easy to book and made everything simple - would use them agsin

Product rating:
Great location, very professional staff, very impressed
Service rating:
Easy to use, quick to confirm

Product rating:
Awesome! Great staff, Bungy jump is scary at first but well worth doing!
Service rating:
I really enjoyed all of the tours that I went on. All the staff were very friendly and helpfui. Besides some raining weather, I had a great time!
Product rating:
Everything Travel Group Review
If you're looking for adrenaline then jump out of your seat and experience this amazing Bungy Site by the legend AJ Hackett. The site is located right bang smack in world heritage rainforest with a babbling brook and native animals everywhere. It's been operating in Cairns for more than 20 years and there are 16 different ways to jump. Over the last 4 years I have done most of the 16 jump styles, but by far my favourite has to be running off the roof in a full body harness – insane!
Suggestions: There's a great bar, sun beds, and free return transport from the city and most accommodation, so spend at least a couple of hours on site or even half a day. On Sundays they have live music, jumping castle for the kids and BBQ food from 1-5pm, which I have found myself at a number of times. Look out for some of their legendary crew Luke, Boris and Coral who always put on a great show.
Value for Money
Thrill Factor
Wow Factor
Fun Factor
Latest Questions about Bungy - Skypark By AJ Hackett Bungy
Can we do bungee jumping the very next day after Scuba diving?
Comments
Were is cbd for cairns bungy jump pick up
Comments
What is the weight limit please my husband is about 118kg.
I can only find something that says combined weight 250kg.
My son is 10 and about 40kg, could they jump together then?
Many thanks
G'day,

After a wedding present gift voucher and just wondering if i could get a 2yr validation as they are travelling the country then

cheers
Comments
Hi! Is the skypark adventure day pass still available?
OK, don't laugh. At least until we jump. May we bungy nude?
Can people still Bunjee Jump if there is a lot of rain? (Tuesday January 29th 2019)
Comments
Hi! If we book a 9am bungee jump with roundtrip transfer to/from Cairns, about what time should we expect both pick up and drop off in Cairns?
Comments
Are you guys open between the 26th december and the 30th december?
Comments
Hi, I was wondering if it was possible to do a joint bunny jump, so that two of you are doing it at once?

Thanks.
Comments
is there an age limit on how old you have to be to go bungy jumping?
Comments
Are 9,11,1 and 3 the only times you can you a jump or can you come at other times? Do I need to book as with travelling it's a bit hard to be on a strict time table.
Comments
How are you connected to the Bungy?
Comments
Do I need to book the Bungy or can I just turn up on the day?
Comments
Does AJ Hackett still offer unlimited Bungy Jumping as an option?
Comments
I have booked my Bungy , I'm just doing the single jump & t.shirt combo just wondered how much the DVD and photos are ?
Comments
My friends and I are planning a trip down to Cairns and we were wondering if you could explain the differences between the packages (what each package includes).

Thanks!
Comments
Do you offer a Bungy & Swing Combo? My friend said they brought a combo?
Comments


rating
93% of new customers that used Everything Cairns to provide advice and securely book their Cairns activities have let us know they've had a good or excellent experience with us. Thank you.