Live to Dive? Why not Liveaboard!
Live to Dive? Why not Liveaboard!
You simply cannot explore all of the wonders of the Great Barrier Reef in one single day, so why even try! With options for eager beginners or avid diving pros, there's so much to explore off the coast of Cairns that you'll want to take your time and really get to know this beautiful natural wonder. Well now you can, with a Great Barrier Reef multi-day or overnight liveaboard experience!
While you're enjoying the absolute luxury of staying overnight on a reef boat, you'll have the chance to immerse yourself in every last detail of the Reef, taking in the spectacular views from both above and below the gentle waves and not feeling rushed at all. Regardless of your budget, there's a liveaboard tour to suit you and all on-board accommodation, meals, scuba or snorkelling equipment and instruction are included in the price. You can't go wrong with these options: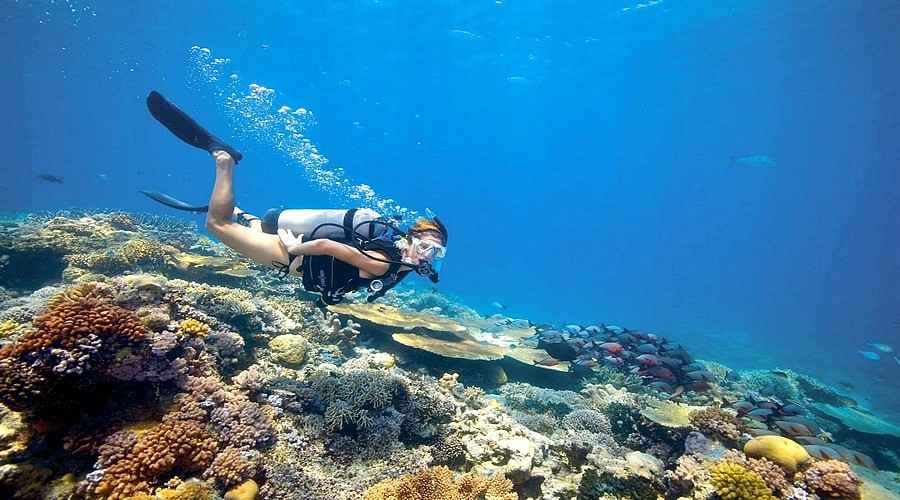 Reef Boat Overnight - Rum Runner
For two glorious days and one magical night, you'll scuba dive or snorkel your way through the Great Barrier Reef's most beautiful dive sites. Snorkelers can enjoy unlimited dives as well as an introductory dive and a night dive, while certified divers can experience an amazing six dives (with the option of more)!
Liveaboard Dive Boat - Cod Hole & Coral Sea
With options ranging from three, four or seven days, you'll explore the Coral Sea and Cod Hole by scuba (also includes snorkel on the three-day trip option). Enjoy rom eleven to 26 dives – including night dives –at some of the Reef's top sites, then come aboard and enjoy delicious gourmet meals accompanied by Australian wine, beer or soft drink as you watch the sun set over the glistening water.
Liveaboard Dive Boat - Deep Sea Divers Den
If you're up for one, two or three night's worth of scuba diving and snorkelling at an exclusive outer reef location, then this tour is for you. You'll enjoy either four dives daily and a night dive (for certified divers) or three dives daily including a night dive (for intro divers) at a choice of up to 17 amazing sites. You'll relax at night on the luxury 30-metre mono hull vessel with comfortable accommodation and delicious meals.
Liveaboard Dive Boat - Pro Dive
For three days and two nights, you'll snorkel or scuba dive eleven times (plus two night dives for certified divers) at some of the Great Barrier Reef's most exclusive outer reef locations. You'll experience the luxury of the comfortable accommodation and the wonder of the stunning views from above and below the water line.
Liveaboard Reef Boat - Coral Princess
Scuba dive at premier outer reef locations for three nights and four days (snorkelling available on three-day trip) on the luxurious 'Coral Princess'. Not a certified diver? No worries – you'll benefit from the introductory scuba skills sessions with a friendly and experienced instructor. You can marvel at the underwater scenery from your scuba or snorkel mask, or from a glass-bottomed boat, if you'd prefer to stay dry. You'll also have access to islands, marine and national parks! After a long day of fun, jump in the on-board spa or soak up the sunset views from the sundeck.
Reef Boat Overnight - Coral Sea Dreaming
This two-day, one-night trip offers an intimate setting for diving the outer Great Barrier Reef's secluded locations. With guided snorkelling tours on request (certified and intro diving available as an optional extra), you'll have plenty of time to soak up the awe-inspiring underwater atmosphere.
Delicious meals and outstanding views await you at the end of each day, as you regale your companions with stories of your daily dive.
Reef Boat Overnight - Reef Encounter
From two to four day (one to three nights), you'll experience the best of the Reef at three inspiring dive sites. This tour is perfect for the absolute beginner who wants to become certified, with Introductory/Resort Scuba Dives available. You'll enjoy night shark dives, guided glass bottom boat tours and marine biologist presentations during the day; while at night, your chef-prepared meals will be the perfect prelude to a night out on deck, under the stars.


rating
93% of new customers that used Everything Cairns to provide advice and securely book their Cairns activities have let us know they've had a good or excellent experience with us. Thank you.