Helmet Diving on the GBR
Helmet Diving on the GBR
You have all seen the old movies where someone in a diving suit with a big metal helmet on their heads stumbles along the bottom of the sea floor. Next thing you know, they have one foot trapped by a giant clam.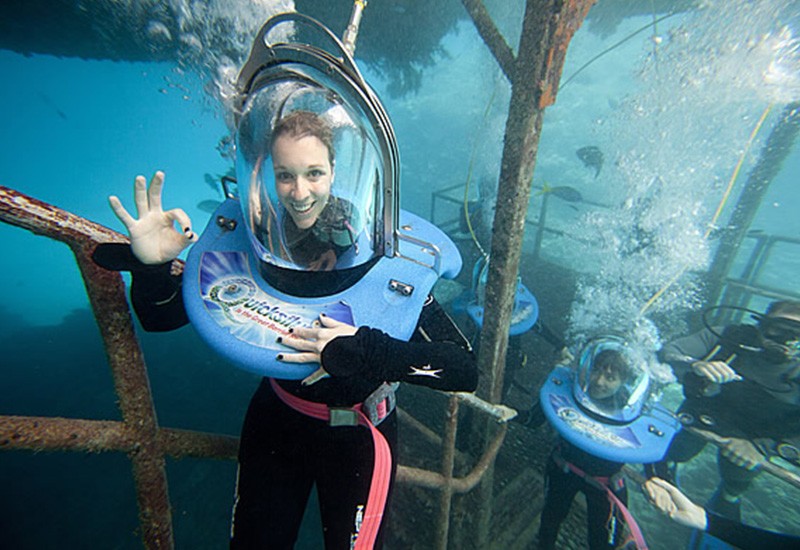 Well that is nothing like helmet diving in the tropical waters around Cairns. Yes, you might wear a diving suit and have an air hose but the helmet is not metal and does not have a tiny porthole at the front offering only very restricted views. Modern helmets are light and allow you to look around and take in your environment – and oh what a stunning environment it is! You are surrounded by the Great Barrier Reef – world renowned for its beauty and its diversity of marine life – and those giant clams will not be a worry, as you will be walking underwater down a staircase onto a viewing platform. You don't have to get your hair wet and you do not even have to be able to swim to take part in this unique adventure. You can even keep your specs on if you need them! Groups are kept small to make sure you are not too crowded and are held in fairly shallow water (about 4 to 5 metres down). You are sure of an audience as fish feeding is included in the dive.
You do need to meet certain health standards to participate in this activity, but other than that, you need no particular skills or experience. All tours are accompanied by a qualified and well-versed guide for your safety and allow you to get up close and personal with marine creatures while viewing the beauty of the coral gardens and their denizens.
You can experience helmet diving on any of the following tours.
You can combine helmet diving with scuba diving and/or snorkelling. Equipment is provided and certified tuition is available. Some tours even offer you a chance to power through the water using an underwater scooter – commonly referred to as a Scooba Doo. Other features are glass bottom boats, and semi-submersible vessels that allow you to see underwater while enjoying air-conditioned comfort. If you want, you can also remain dry and yet see the wonders of the reef by visiting the underwater observatory. Comfortable fast boats will take you to and from the reef destinations, all the while providing the creature comforts you need for a magic day's pleasure. It is also possible to combine these activities with a helicopter tour so that you can say that you have really seen the Great Barrier Reef from both above and below.


rating
93% of new customers that used Everything Cairns to provide advice and securely book their Cairns activities have let us know they've had a good or excellent experience with us. Thank you.