Skydiving - Skydive Cairns
Highly Recommended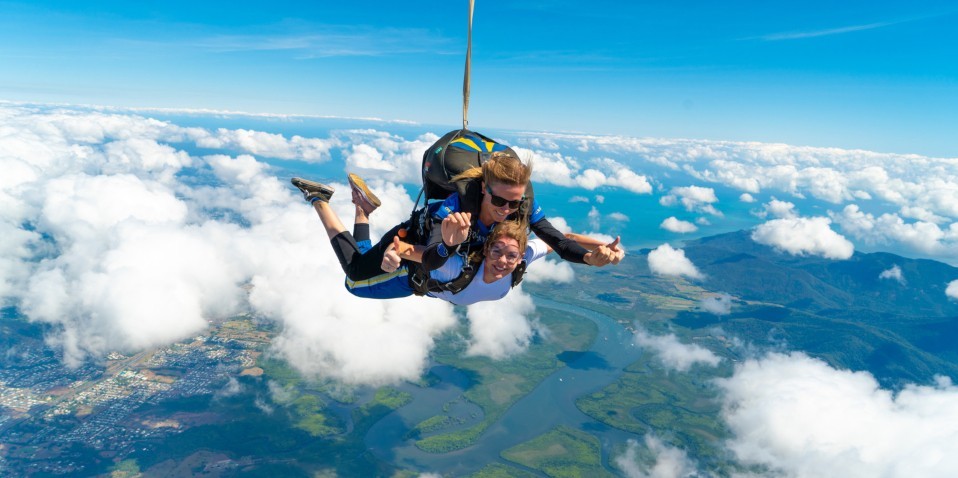 Skydiving with Skydive Cairns
Description
Tandem skydive in Cairns, North Queensland with leading Australian skydive company, Skydive Cairns. Specializing in tandem skydiving for both novices and skilled skydivers, Skydive Cairns has a professional training centre where you will be educated by an expert tandem skydiving instructor to take the plunge of a life time in the magnificent Great Barrier Reef region.
Departing from Cairns International Airport you will fly over the city with spectacular birdseye views of Trinity Inlet and the magical rainforest. As you climb to freefall height see the Atherton Tablelands and Copolode Dam, the towns water supply. Your skydive exit point is just south of Cairns city between two mountain ranges in the luscious green valley overlooking the City and Trinity Inlet. The view is second to none and one that you will never forget. That's why our instructors are passionate about working for Skydive Cairns because the scenery never gets old!
Skydive participants must be at least 16 years old. Tandem skydiving is the best way to introduce yourself to the world of skydiving, and once you start, you won't want to stop!
For your up to 15,000ft jump you will experience up to 60 seconds of freefall. After freefalling you'll enjoy 5-6 minutes of spirals and turns under canopy.
Trip Includes
Air-conditioned transfers to & from your accommodation (Cairns and northern beaches included)
25 minute flight & spectacular scenic views over Cairns, Great Barrier Reef & rainforest
Cairns largest drop zone for safer landings
Latest modern parachutes equipped with backup automatic parachute deployment computer
Jump certificate of your skydive
Up to 15,000ft jump with 60 seconds of freefall
Duration
Allow approximately 3 hours (depending on weather conditions)
Departures
Morning departures
Pick up from your hotel/backpackers or check in at the Cairns skydive shop, 52 Fearnley St, Portsmith, Cairns
Operates all year
Other Information
Minimum age is 16 years
24 hours must have elapsed since any deep water dive
Video & photo package available for purchase on the day
No child rates
Max weight is 110kg. Please advise at the time of booking if you are over 94kg as weight surcharges apply. 94-104.9kg = $50 surcharge, 105-110kg = $75 surcharge. This is payable on the day of the skydive
Weather dependent
Normal Retail Price
Up to 15,000ft Skydive: AUD$359.00
All prices shown in AUD$.
Genuine Customer Reviews powered by
Service rating:
Website was easy to use, could have been more descriptive ie if you could take a spectator and what clothing was most suitable.

Product rating:
I booked skydive over the reef which wasn't a true description of the dive. The skydive however was amazing, an experience I won't ever forget. I would be happy to book with this company again in the future.
Service rating:
I just still not yet got my refund of the cancelled skydiving tour.

Product rating:
Originally my pick up time should be 9:30. Then, it delayed to 11:30, then 11:45, then 12:30. As what the staff of Skydive Cairns told me, due to miscommunication, the driver didn't come to pick me up. She also told me I had to wait until 2pm to confirm my tour because it's too windy to skydive at that time. I waited until 2 and no surprise, my tour was cancelled.

I just kept waiting for the whole morning, wasting time but did nothing. Things were screwed up and out of plan. No one called me to tell me the cancellation of the tour but only a simple text message was sent to me. I felt bad about all of these.
Everything Travel Group Review
I was really impressed with Skydive Cairns service and quality. From check in all the way through all their staff were happy and having fun. The jump itself was breathtaking and certainly the most extreme way to see Cairns. My instructor kept me calm throughout and then after he had pulled the shoot guided us down talking in my ear like a mid air tour guide and pointing out points of reference. I really enjoyed my jump with these guys and would definitely recommend first time jumpers or people that have jumped before let the team from Skydive Cairns push you out of an aircraft!
Suggestions: Go as high as possible. 14,000ft gives you more freefall and doesn't cost much more.
Thrill Factor
Wow Factor
Fun Factor
Latest Questions about Skydiving - Skydive Cairns
Hi
Just wondering if you have any local discounts?
Thanks
Di
I am taking my daughter, son in law and two grandsons, 14 and 12, on a holiday to Australia from Scotland arriving on Sunday 3rd April 2022 staying in Port Douglas. On Tuesday the 5th we are doing the Great Barrier Reef tour. Myself and son in law have both done a skydive in Orlando and I want to give my grandsons the thrill of the jump. We leave Cairns for Sydney on Friday 8th. How far in advance would I have to book for either the Wed or Thurs
Comments
Hi I've been recommended to go through you guys,we are looking for some out of the ordinary to do for my wife's 50th. We may have around a group of about 8. Which is the most economical way for us to go about it, would a combo package. If you guys could help great
Comments
Hi
Cam I go for sky diving same day I land in Cairns?
Comments
Are 13 years old allowed to skydive?
Height is 5'2"".
Weight 45kg
Comments
Yo Yo am i able to bring my gopro with me if its strapped to me?
Comments
Hi

Do you pick up from the port for those coming in on cruise ships?
Comments
Hi,
I am looking forward to skydive. I want to know if in the price 299$ the pictures or video are included? Or I have to pay an extra? How much is it?
I am looking forward to your answer.

Comments
Hi

I would like to find out if you have an afternoon session for skydiving? My friends and I are flying in from Sydney and will touchdown at 10.15 am on 15 July 2014. If you have an afternoon slot, say at 2pm, it would be great.
Comments
Hi
One of our group of 3 wants to Skydive, we are happy to make our own way to the airport - where should us 2 spectators watch from to get best view of our Skydiver coming down??
Comments
I would like to book a skydiving for myself in mid January 2014, but I wonder how can I settle my wife and child, who won't join the skydiving. Can they go with us? Any transportation provides for them to go to the venue of skydiving with me? Can they be observers? Any charge?
Comments
Hi just wondering if I were to book, would I be able to be picked up from the pacific sands apartments in holloways beach?
Comments
Hi, i was just wondering if you are running the 14,000 ft skydiving at 7.30am on australia day as well or are you guys not open then??

I was also wondering if you are open on the 26th of January if i was able book it for me and a friend so we can jump together but pay seperately??

Thanks, Britney
Comments
Is insurance included in these packages?
Comments
looking to tandam skydive Jan 9th 2013. 4 of us but Alison is 102kg .Is she allowed to jump,its her 50th birthday
Comments
Hi

We are interested in booking sky diving for 2 people on Christmas Day.

Do you operate on Christmas Day?
Comments
Hi, is it possible picking me up 3 pm instead of 2 pm?
I really want to do skydiving, but i have only from 3pm schedule.

Thank you for ur time.
Comments
Do you provide solo dvd & digital photo ? how much is it?

Comments
Hi do you get a free t-shirt with a 14000ft skydive or is it only included with the gold package? I'm collecting them for all the adrenaline activities.

Thanks
Comments
Hi are we allowed to bring our own camera and take photographs during the skydiving process?
Hope to hear from you soon thanks!
Comments
how much is it for a DVD?
Comments
Hey there. Im looking at going skydiving for me and my girlfriend. Just seeingwhat we need and is there n e paper work to do.
Thanks for ur time.
Comments
Hi what are the age requirements??
Comments


rating
93% of new customers that used Everything Cairns to provide advice and securely book their Cairns activities have let us know they've had a good or excellent experience with us. Thank you.