Easy to book - Secure Online Payments - Instant email confirmation - Flexible to make changes
Skydiving - Mission Beach - Jump the Beach
Current Special
Highly Recommended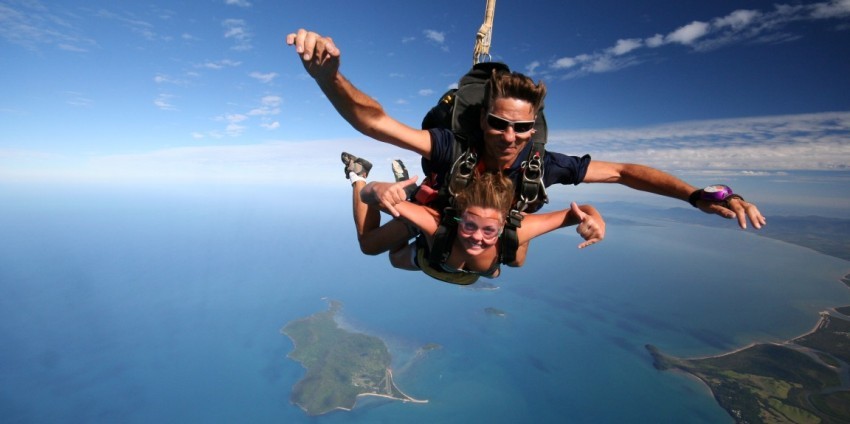 from AUD$309.00 (includes AUD$35.00 levy)
Skydiving - Mission Beach - Jump the Beach
Description
Skydiving with Jump the Beach, which involves leaping out of a plane over stunning Mission Beach, is hands down one of the most thrilling experiences you'll ever have.
Jump the Beach will see to it that you experience an unbelievable 14,000 foot high adrenalin rush as you plummet to earth amidst stunning scenery. Best of all, you will also be able to partake in a day of sun and fun at Mission Beach, located South of Cairns, one of the most pristine beaches in Australia.
Accompanied by expert professional Tandem Skydive Masters, you will be shown the ropes and led out of the aircraft into a hair-raising skydive that places you above some of the most jaw-dropping scenery on earth. You will have unmitigated views of 14 kilometres of pristine sands, verdant rainforest, the amazing Great Barrier Reef and offshore islands.
Despite the unbelievable views, however, you will remember most distinctly the heady rush of adrenalin as, strapped securely to your tandem skydive master, you freefall for 60 seconds from a terrifying height of 14,000 feet, followed by 5 to 6 seconds of exciting turns and spirals under canopy.
People with no prior skydiving skills or knowledge are absolutely welcome. You will be taught everything necessary to tandem skydive with our experienced skydive masters, who will ensure you know what to do before you take off. Your tandem skydive master will be with you all the way, taking you safely from the airborne aircraft all the way to earth.
Anyone who's at least fourteen years old should give skydiving a shot. Tandem jumps are the ideal initiation into the wonderful skydiving world, which you might find yourself coming back to sooner than you think!
Trip Includes
Air-Conditioned bus transfers from Cairns to our skydive training facility & Mission Beach (1.5 hours)
14,000ft exhilarating tandem skydive
60 seconds of freefall
Landing on Australia's amazing drop zone, Mission Beach South Cairns
Scenic flight over the Great Barrier Reef & tropical islands
Breakfast or Lunch at Sealevel Beachfront Restaurant & Bar
Free use of Castaway Resort's facilities (pool, bar, restaurant & gym)
Exclusive personalized jump certificate of your skydive
Duration
Allow 10 hours (including transfers from Cairns)
Allow 3 hours if you are in Mission Beach
Departures
6.30am pick up from Cairns accommodation (return by 6ish!)
7am or 12pm if you are making your own way to Mission Beach
Drop Zone is in Mission Beach (1.5 hrs south of Cairns)
Operates daily all year
Other Information
This is an all day activity from Cairns. Depending on the number of jumpers you may not be back to Cairns until after 6pm so bring a book & beach towel
Minimum age is 12 years old
There is a $35 APF compulsory levy (Australian Parachute Federation) payable on the day
No child rates
Max weight is 100kg. Please advise at the time of booking if you are over 95kg as there is a weight surcharge of $25 if you are between 95kg - 100kg
DVD & photo packages available for purchase on the day (Photos for $89, DVD for $119 or DVD and Photos for $129)
Weather dependent
Upgrade this activity to one of the following combos:
Prices & Options
(includes AUD$35.00 levy)
Currency Converter
14,000ft Skydive: Special AUD$309.00 (was AUD$369.00)
(Special from 1 st March 2017 - 31 st May 2017)
Genuine Customer Reviews powered by
Service rating: bad
Had confirmation email through outlining inclusions for the day stating pick up from Palm Cove 6am; got call 10hrs before saying 'can't do, you will have to be picked up in the main street in Cairns at 6.30am.' Bus did not come until 7.30am. Got to destination and there was no coffee and muffin, no welcome drink and no BBQ lunch,which was also confirmed in the email. Lunch for the day was a hamburger only!! Very disappointing day

Product rating:
And of course..... no jumps today
Everything Travel Group Review
Ok, welcome to a truly unique product. You may be able to skydive all over the world, but you can't land on a beach. This was an amazing sensation, looking out over picture perfect beaches, the Great Barrier Reef and the Rainforest! Almost too picturesque to be real. Then the highlight swooping down and landing on Mission Beach itself – AMAZING. This was a very cool experience and made me feel like we were part of some special ops mission with the green berets!!. This is just a great all round skydive experience, truly unique.
Suggestions: Just do it! Nothing else to say!!
Thrill Factor
Wow Factor
Fun Factor
Latest Questions about Skydiving - Mission Beach - Jump the Beach
Accomodation can you recommend aplace to stay
Is ther a upper age limit for sky dive
Comments
If already staying in Mission Beach, would the costs be less since not traveling from Cairns?
Comments
the price 299$ includes $35 so that I don't have to pay anything else except the DVD handcam , do I ?
Comments
I would like to buy a gift voucher for my son to use at a time of his choosing. I live in the UK but he is in Brisbane and hopes to visit Cairns in the next few months. Can I do this from the UK and how is it sent to him? Also can I pay with my credit card online?
Comments

rating
96% of new customers that used Everything Cairns to provide advice and securely book their Cairns activities have let us know they've had a good or excellent experience with us. Thank you.