Easy to book - Secure Online Payments - Instant email confirmation - Flexible to make changes
Rafting - Extreme Tully River - Raging Thunder
Highly Recommended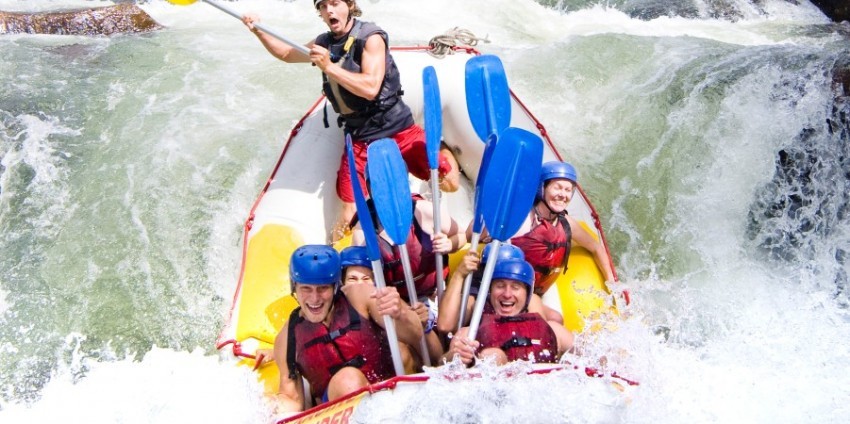 Rafting - Extreme Tully River - Raging Thunder
Description
Suited to adventurers who prefer to travel in a small and cosy group, this expedition will have you paddling with Raging Thunder's senior guides down the raging river on a little flotilla composed of rafts. You'll also be able to enjoy the incredible fun of body surfing, swimming in the rapids and rock jumping.
As the first people to journey down the river, you'll have greater opportunities to observe animals in their natural habitat and truly soak in the wonders of the ancient rainforest through which the river wends, a river that is World Heritage Listed and one of the most astonishing sights in the world. Raging Thunder cares about the environment, so your Xtreme Rafting adventure is conducted in small groups and prioritises preservation of the environment.
Anyone who's ever wanted to try white water rafting can find no better place to do it than on the Tully River. The river, which lies just two hours away from the city of Cairns to the South, offers tough grade three to four rapids and more than five hours of rafting, and has gained international repute as a favourite of white water rafting guides as well as recreational guides.
Water levels are maintained all year round thanks to the Kareeya Hydro Power Station, which regulates the flow of the river, making it perfect for white water rafting. The Tully River proudly hosted the 1991 Australian Canoe and White Water Championships.
The river winds through the spectacular Tully Gorge National Park with its luxuriant rainforest that in 1987 was granted a World Heritage Listing. In 1984, Raging Thunder became the first operators on the Tully River to commercially run white water rafting expeditions.
Raging Thunder are excited to share with beginners and fellow rafters alike the exciting sport of white water rafting while at the same time protecting the untouched swathes of nature that engulf the river.
You will be fetched from your lodgings and then begin the journey South to the stunning rafting site on the Tully River. You can also arrange to be collected at Mission Beach instead, or to meet your group at an accessible spot in Tully. Once you get to the river you will attend a life jacket and helmet fitting before embarking on your adventure on the Tully River, where you will try to surmount the challenges presented by technical and challenging rapids with your guide's assistance. Pause on the idyllic river bank for a mouth-watering barbecue lunch. Though you'll have to hold on tight and be alert, Tully Rafting can be enjoyed even if you have never tried white-water rafting before and most rafters who attempt it are first-timers. A bold and venturesome attitude will help you to enjoy your experience to the fullest.
Trip Includes
Approximately 5 hours of white water rafting
Guaranteed small groups
Highly experienced senior guides
Longest trip on the Tully River
BBQ lunch & afternoon snack
Body surfing, rock jumping, rapid swimming & raft surfing
Guaranteed water levels all year round
All tuition - no experience necessary
All accommodation transfers
Optional Extras: photos & merchandise available for purchase same day
Duration
Allow 11 hrs (from Cairns)
Allow 9 hours (from Mission Beach)
Departures
7am from Cairns & Northern Beaches (returns approx 6.30pm)
8am from Mission Beach (returns by 5pm)
8.30am if self driving to Tully
Meet in Tully or return Cairns hotel transfers available
Operates daily all year
Other Information
All Xtreme rafters must be confident swimmers, be able to swim at least 100m & have good English skills
Minimum age: 15 years (rafters aged 15-17 years must be accompanied by an adult)
Professional photos available for purchase after trip
No previous rafting experience required
Bring your bathers/swimmers, a towel, a change of dry clothes, Sunscreen, money for souvenirs and drinks
Also bring lace up shoes or reef sandals to wear in the raft which WILL get wet (or you can hire them for $4 per pair)
Not suitable for anyone who is pregnant
A $30 per person Pay on Board fee for insurance charges, land management agency prescribed daily client fee, water release fees, transfer costs, GST and administration charges is payable on the day of travel
Normal Retail Price
(additional AUD$30.00 levy per person payable direct on the day)
Adult (15yrs+):

from Cairns AUD$229.00
from Mission Beach AUD$199.00
self drive to Tully AUD$199.00
All prices shown in AUD$.
Upgrade this activity to one of the following combos:
Genuine Customer Reviews powered by
Service rating:
Great trip. Guides made it lots of fun. Surprisingly great lunch

Product rating:
Great time. Exceeded my expectations
Service rating:
i think you should include all the fees for the trip in your price instead of being required to
Pay more once I get there.

Product rating:
I think all fees should be included in your price instead of having to pay more once you arrive. Guide seemed a little impatient with everyone.
Everything Travel Group Review
This white water rafting trip is truly brilliant. You get to actually raft the river and control where the raft should be heading, under guidance of the head guide. Rafts are smaller and can therefore hit tighter gaps and go down rapids the bigger rafts can't. I found this trip to be very rewarding, it was as if I had been on my own personal mission. For anyone that wants to check out amazing scenery and also get active for the day this trip is for you.
Suggestions: Take turns at moving around the raft so you can experience what its like at the front, middle and back. All positions in the raft are quite different.
Thrill Factor
Fun Factor
Latest Questions about Rafting - Extreme Tully River - Raging Thunder
hey Im coming to cairns the 6th-10th december how much in advance do i need to book for 2 people to secure a spot on this trip?
regards Blake Timmins
Comments
Hi!!
i wear glasses... (without which i do not see much). Is it going to be a problem? I can wear contact lenses, but with the water they might be removed... what should i do?
thank you!! :-)
Comments
would this activity be available around november 3rd and why is it more expensive from cairns how far in advanced can I book and what are the refund rules
Comments
Non swimmer's can do this rafting ?
Comments
Can we meet you in Tully somewhere, if so how much would this cost per person?
Comments

rating
95% of new customers that used Everything Cairns to provide advice and securely book their Cairns activities have let us know they've had a good or excellent experience with us. Thank you.