Rein in the best Cairns Holiday
Rein in the best Cairns Holiday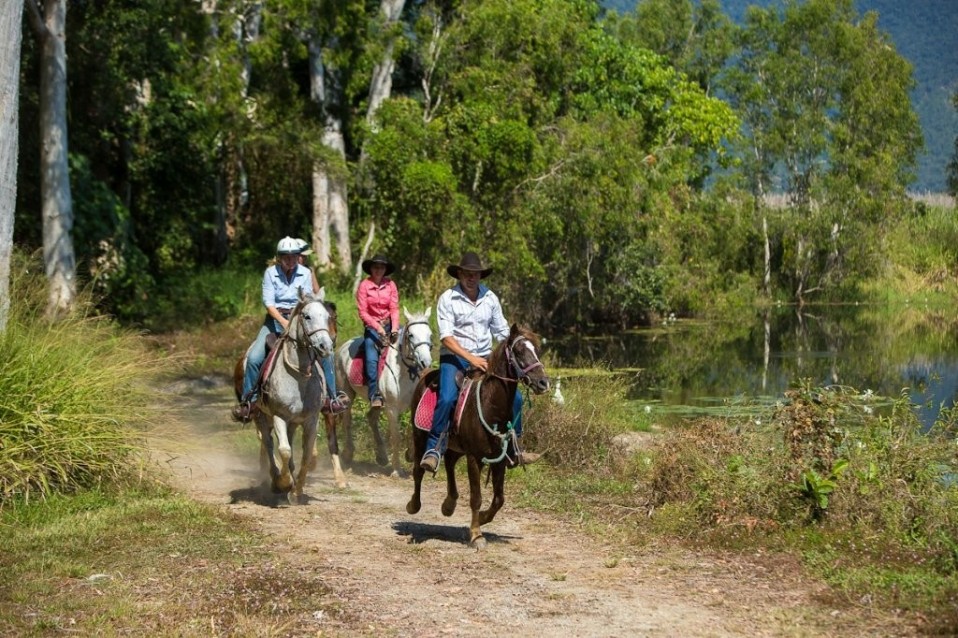 What better way to explore the supreme secrets of Mother Nature than on a thrilling horseback ride? Horse riding is an ever-popular sport across Australia − just ask the Melbourne Cup loyalists – and even though it's more watched than played, there's no reason why you shouldn't ride the thrill of your life.
Explore the fascinating jungles and natural beauty of Cairns on a guided horse trek to absorb the charm of nature at its very best! While Cairns is in the limelight for its spectacular Great Barrier Reef and pristine waters, its rainforest ecosystem is perhaps one of the most underrated and unexplored areas, deserving to be unleashed for its spectacular beauty. Canter through the lush rainforests and untouched beaches and ride like you're one with nature. Whether you are a beginner or a horse-riding expert, a ride through the forests at Cairns is one of those must-try experiences that will leave you coming back for more... EVERY TIME!
SPECIAL OFFER
Use promo code blog7 to get 7% off Cairns horse riding tours and all Cairns activities.
Whether you're a horse-riding connoisseur or just a beginner, Cairns offers horse-riding tours that will cater to just about anyone! Naturally, you will be privy to a thorough lesson in safety and you'll get a practice ride, before the real thrill begins. Tour guides are always present to attend to your comfort on the horseback hike. Exploring the wildlife on horseback may seem like an uncertain proposition for a few people. But don't worry! Once you ride on a horseback, you'll be raring to go a few times more!
Blazing Saddles is one of the oldest and most well-known companies offering horse riding tours through the Cairns rainforests. From transporting you to the base of the hike to training and equipment, they have got it all covered. At the hike case, beginners will be given a lesson in safety precautions and the basics of riding. You will then be taken on a guided hike to explore the Far North Queensland Rainforest and the famous Australian bush. Horses are available for every age, height and build − with a minimum age of 4 years. Every hike includes delicious Australian hot dogs.
Cape Tribulation Horse Rides offer horse riding at one of the most beautiful places around Cairns − Cape Tribulation, a 2-hour drive from Cairns. The friendly crew takes care of all your needs to give you the hike of your life. The trek begins with a ride into the oldest living rainforest in the world. You will see exotic birds and beautiful mountain streams as you ride along. Then you'll ride along the banks of a river to reach the beautiful and exotic Cape Tribulation Beach. The Experienced Horse Trek allows riders to gallop their horses at certain locations.
If you want to plan a whole day out at Cairns, then you must try some combos that include a number of other activities along with horse riding. They not only help you save money, but also let you make the most of your day. The Ballooning and Horse Riding combo has a 30-minute early morning balloon ride organised by Raging Thunder and is followed by 2 hours of horse riding through the rainforests. If you want to experience the reef, then the Green Island and Horse-riding combo is just for you. Spend half a day at Green Island where you can enjoy snorkelling. This is followed by a horse ride in the afternoon. These combos offer a whole day of blissful entertainment and are a must try!
Whether you're planning an individual horseback ride or in tandem with another activity, Cairns is perhaps one of the best places in the world to experience so much diversity at once!
SPECIAL OFFER
Use promo code blog7 to get 7% off Cairns horse riding tours and all Cairns activities.


rating
93% of new customers that used Everything Cairns to provide advice and securely book their Cairns activities have let us know they've had a good or excellent experience with us. Thank you.