Cairns by Night
Cairns by Night
It's no secret that Cairns is known as one of the most popular tourist destinations in all of Australia. The town is extremely vibrant and offers plenty of activities for its visitors to enjoy, while Cairns' surrounding tropical rainforests, Great Barrier Reef and other natural wonders are simply spectacular!. If you think Cairns is a fun, exciting place during the day though, then just wait until you experience the wonders of Cairns by night!
That's right – from enchanting night tours to viewing the clear night skies and even dining in the rainforest, Cairns offers it all. With that, here are a few night tours that you must check out to really view how this beautiful tourist destination comes to life at night: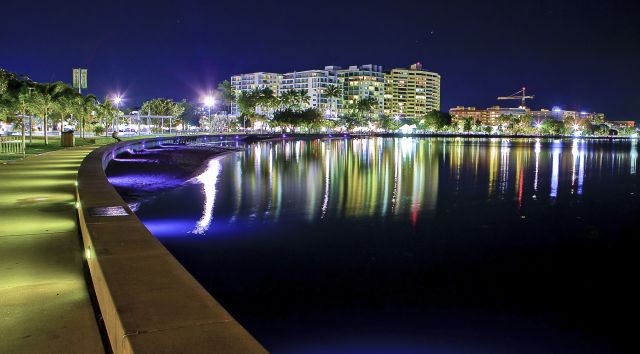 If you've always wanted to experience stunning sunsets over majestic mountains, sparkling waterways and thick mangroves, then this Cairns trip is for you. Departing from the Cairns Harbour, the trip begins with extremely friendly crew members greeting you with a welcome drink and an outstanding view from the deck. If you wish, it is possible for you to combine the sunset cruise with a special dinner at one of the finest restaurants on the waterfront of Cairns – Dundee's.
Tjapukai Aboriginal Cultural Park
This particular trip is meant for individuals who wish to learn about the amazing culture of the indigenous Australians. The best aspect of this adventure is that you get to witness the culture, traditions and customs of the Tjapukai people through lively interactive activities and song and dance performance.
With lots to do during the day, there's even more fun waiting for you at night. There are endless cultural performances that you can enjoy and learn about the Australian Indigenous culture and spiritualism through dance and music. As you go back in history, you may enjoy a delicious buffet dinner to bring your trip to a wonderful end.
Dining in the rainforest – Flames of the Forest
Explore a rainforest paradise in a totally unique manner and learn about the warmth, hospitality and friendliness of the Australian people – all this while trying out delicious Australian cuisine and premium Australian wines! That's right – this rainforest experience will be the 'once in a lifetime' thing that you will always boast of, as the trip will allow you to have a meal at a restaurant located in an untouched natural setting right in the rainforest. Choose between the 'Aboriginal Cultural Experience' and 'Romantic Rainforest Dining' and enjoy great food and unique taste and flavours in the midst of the rainforest!
Port Douglas Sunset Sail – Sailaway
Sunset sails are offered on a daily basis from 5pm to 6:30pm at the Port Douglas Marina. Unwind in utmost luxury and comfort and view a beautiful sunset from the Lagoon 500. Have a drink and experience the glory of a colourful sunset over the Coral Sea and framed by majestic mountains is like – it's an experience that will forever remain etched in your mind!
The World Heritage Listed Wet Tropics region of Tropical North Queensland is simply spectacular, and this trip is just what you need to tour it. Get out there, explore wildlife, try your hand at birding and check out nocturnal animals as they live within their natural habitat. The fun doesn't end here as you will also get to have dinner at a top notch country restaurant! Simply stunning!


rating
93% of new customers that used Everything Cairns to provide advice and securely book their Cairns activities have let us know they've had a good or excellent experience with us. Thank you.