Scuba Diving Cairns
Scuba Diving Cairns
Creating Unforgettable Memories with Cairns Scuba Diving
There are very few places in the world as pristinely beautiful as the Great Barrier Reef – so if you're thinking scuba diving – then this is just the place for you. The Great Barrier Reef, located off the coast of Cairns, is so big that its coral reef system can be seen from outer space. That's absolutely unbelievable, yet true!
The beautiful corals, exotic varieties of fish and the warmly inviting water makes it a diver's paradise. In fact, divers from all over the world scramble to Cairns for a piece of the diving action. A scuba diving tour will open you up to an experience of a lifetime. Whether you are a beginner or a scuba expert, these tours are designed to give you a close-netted glimpse of the iconic Great Barrier Reef – to create unforgettable memories that's beyond anything you've ever imagined.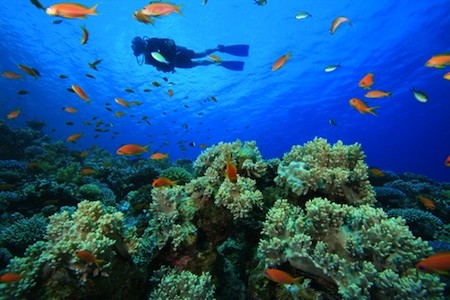 Cannot-Afford-To-Miss Scuba Diving Tours in Cairns
The Great Barrier Reef is only a few kilometres off the coast of Cairns. With comfortable year-round temperatures, scuba diving at the reef takes place throughout – but soars in popularity in summers. If you are a novice without any previous scuba diving experience, there are plenty of beginner dives to give you a feel of the reef. Qualified instructors are assigned to help you get acquainted with the whole diving experience.
Certified divers too will find the Great Barrier Reef an experience like none other – unravelling the mysteries of this unique marine ecosystem. Most tour operators in Cairns offer fabulous scuba diving tours that will have you coming back to this natural marvel – providing you with all the equipment and instructions you need for a safe diving experience. Just be sure that you get to experience the sublime phenomenon of the Great Barrier Reef at least once in your lifetime.
• The Sea Quest Reef Boat Day Trip offers an eight hour day tour to the reef. With over 17 prime locations to choose from, the Sea Quest offers you choice unlike any other. These sites are located on the Hastings, Norman and Saxon reefs – some of the best and picturesque reefs in the region. You'll have instructions and guides at your disposal for the dives – and everything else you need for an adventurous day out.
• The Downunder Dive aboard the Osprey V offers one of the best scuba diving trips at the reef. This boat has a capacity of about 120 people and takes you to two stunning locations on the reef. You'll have plenty of time – not only for an unforgettable dive, but also to enjoy an authentic Australian BBQ lunch on board this vessel. Sit on the deck sunbathing, while enjoying a thirst-quenching drink and revelling in the music. This is one of the most value for money tours available at the Great Barrier Reef.
• If you decide you want to spend more time at the reef, jump aboard the Rum Runner Tour. The Rum Runner offers an overnight stay at the reef with over 6 dives – including a special guided night dive to make it a truly divine experience for you. This boat does not take more than 16 passengers on a tour – so you get a truly personalised experience. The experienced crew takes care of food, drinks and dive training – everything you need to enjoy a magical reef experience.
• The Reef Magic Day Trip takes you to a private spot on the reef known as the Marine World. This tour is especially designed for people with little experience in scuba diving. The scuba diving tours at the Marine World are accompanied by a marine biologist to help you make the most of your dive. The crew aboard the ship will ensure that all your needs are met.
Scuba diving has always been popular at the reef – and now with so many great tours, your dream of getting up close and personal with the reef can turn into a spectacular reality.


rating
93% of new customers that used Everything Cairns to provide advice and securely book their Cairns activities have let us know they've had a good or excellent experience with us. Thank you.