Aboriginal Culture In Cairns
Aboriginal Culture In Cairns
The fascinating culture of our Indigenous brethren can be explored in many museums and libraries the world over, but there's nothing like the experiencing of meeting the descendants of Australia's original inhabitants in the flesh and on their home turf, while they tell their stories and demonstrate their rituals and art. Thankfully, the Cairns region offers plenty of opportunity to interact with Australian Indigenous people in this manner.

Around 50,000 years ago, it is thought that Australia's first people arrived, descendant from Africans who migrated to Asia 20,000 years earlier. Of course, this is all theoretical, with some anthropologists estimating that Indigenous Australians may have arrived here as early as 125,000 years ago. The amazing thing about Australia's indigenous communities is that there is such a diverse range of customs, cultures and languages between each – even more so considering that there were even huge differences in communities living close to each other. As a result, there were more than 300 Indigenous languages and 600 dialects when Europeans first came to Australia!

Over the last 227 years since European settlement, many of these precious languages – along with customs and verbal history – have been lost forever. It has only been in the last 30 years or so that we (as a European society) have really understood the value of resurrecting and maintaining the Indigenous languages and customs so that more are not lost. Thankfully, those proud and tenacious Indigenous groups who refused to let go of their heritage have brought their knowledge through the last couple of centuries and are able to tell us about their history today.

For example, Cairns' local Indigenous people are able to tell us that the sea levels in the area past Green Island used to be lower, so their people once hunted on land and fished on a coast that is now submerged under the ocean. Archaeologists are able to tell us that the Cairns communities resided in the rainforests within the area for at least 5,100 years, and likely much longer than this. We are also privy to the information that from the coast of Cairns to Port Douglas (the Western side), the Indigenous groups living there (Yirrganydji groups) spoke the Tjapukai language (AKA Djabuganydji Djabugay or Djabuganydji), while along the Eastern side, along the head of Trinity Inlet, the groups spoke the Gimuy Yidinji language.

If you'd like the honour of being able to learn about these groups directly from their descendants, we have a huge range of cultural experiences available: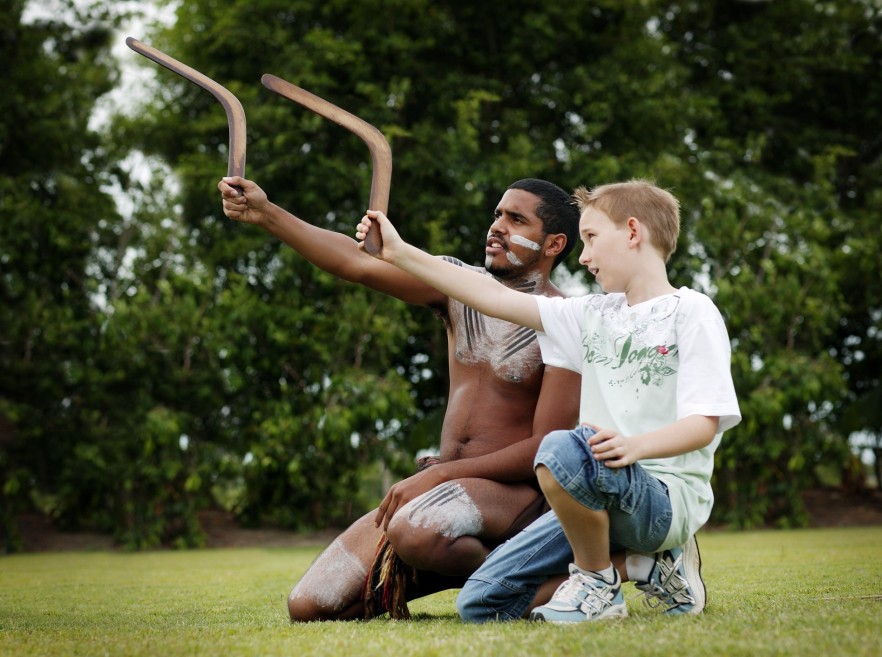 Aboriginal Cultural Park – Tjapukai
Enjoy theatrical performances and interactive events as you explore the Tjapukai culture, language and art.
Daintree Dreaming Aboriginal Day Tour - Adventure North
Enjoy an Indigenous experience within the gorgeous World Heritage Listed Daintree National Park. Discover the stories, history and culture of the local peoples in this culturally rich tour.

Green Island & Aboriginal Cultural Park Combo
Visit both the Tjapukai Aboriginal Cultural Park and Green Island, all in one tour combo. Be amazed by the stories of this ancient culture and the beauty of the Reef for a truly memorable experience.

Kuranda & Tjapukai Experience
Your day interacting with and learning about the Tjapukai people at the Tjapukai Aboriginal Cultural Park will be enhanced by a visit to the beautiful mountain village of Kuranda. To get to Kuranda, you'll be ferried above the rainforest canopy via the Kuranda Skyrail, while your return trip will be via the breathtaking views along the path of the Scenic Railway. Simply Beautiful!


rating
93% of new customers that used Everything Cairns to provide advice and securely book their Cairns activities have let us know they've had a good or excellent experience with us. Thank you.